Sat RE Curriculum
An enquiry-led, multi-faith syllabus viewed, considered and explored through three distinct lenses
Following the announcement from Essex LA for all to schools to implement the new Essex SACRE Agreed Syllabus by September 2023, the Saffron Academy Trust has written a comprehensive and complete scheme of work which provides primary schools with detailed lesson plans, a suite of resources and supporting PowerPoints for all units from EYFS to Year 6.
Mirrors the Essex SACRE Agreed Syllabus 2022
Designed and developed by teachers for pupils
Incorporates evidenced-based cognitive approaches to teaching and learning
Ensures high-quality, purposeful outcomes for each enquiry
Endorsed by Essex LA
If you have an enquiry regarding the SAT RE Scheme, please contact: SATREScheme@saffron.academy
Watch our SAT RE Scheme Webinar - hosted by EPHA
"My RE Lead attended the webinar and was so impressed with your scheme. She's spent hours trying to get subject planning in good shape for non-specialists. Your scheme couldn't have come at a better time."
Liz Crow, Great Bardfield
---
Religious Education through Three Distinct Lenses
In line with the Essex SACRE 2022 Syllabus, the SAT RE Scheme explores Religious Education through three distinct lenses.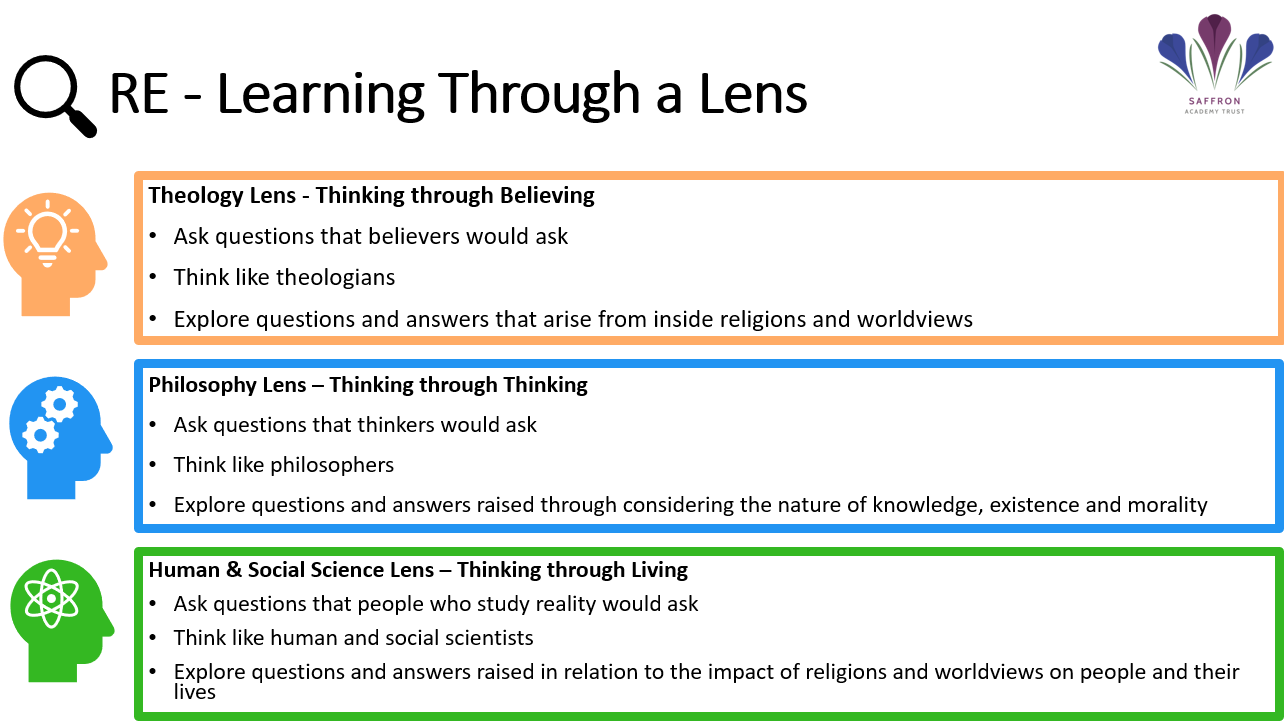 ---
Curriculum Principles - ACE Standards
We believe that every pupil deserves to go to a great school, and our curriculum design reflects that. The hallmarks of our scheme are that it is Accessible, Consistent and Engaging for all.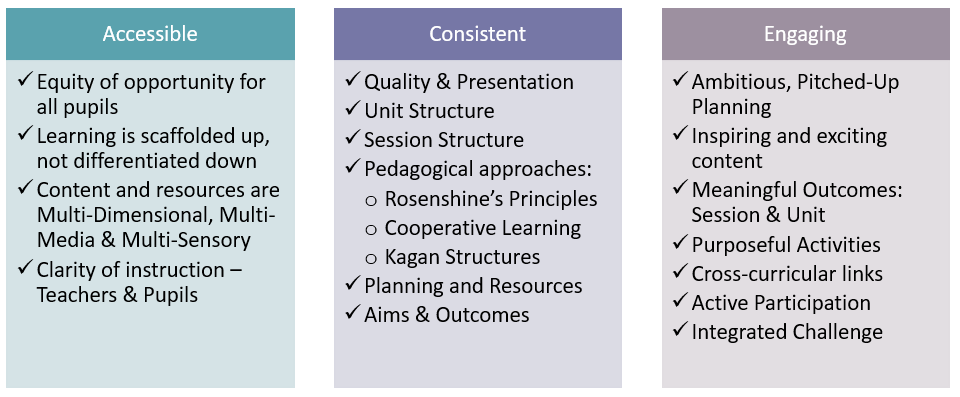 ---
Cognition and Learning: Our 5-Step Pedagogy
Our 5-Step pedagogy is centred around Rosenshine's Principles of Instruction, with a strong emphasis on Modelled Exemplar - Guided Practice - Independent Practice (My Turn - Our Turn - Your Turn). This approach - which is a consistent feature of the scheme from EYFS to Year 6 - allows for often complex concepts and applied activities to be broken down into small steps, allowing all pupils to engage and succeed,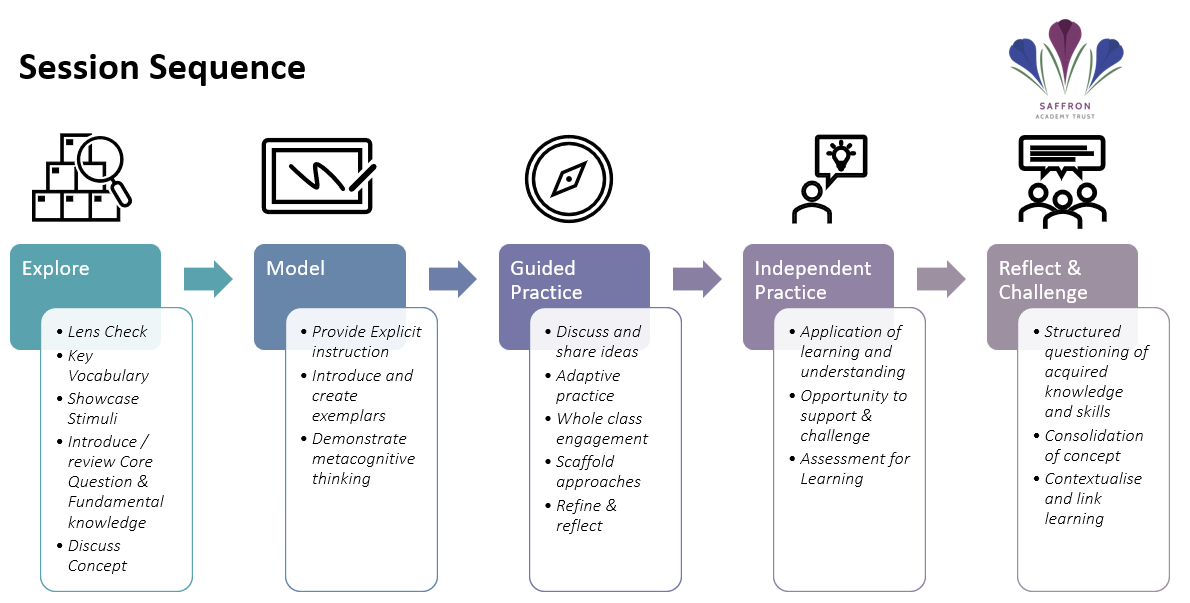 Purchasing the scheme: Costs and Usage

As school leaders ourselves, we are mindful of the financial constraints that schools are facing and have factored this into our pricing structure. This one-off subscription cost includes access to our comprehensive suite of lessons plans, resources and PowerPoints.
RE Leader Training
As a Trust, we recognise the importance of high-quality training and the impact this can have on efficacy, fidelity and quality practice and outcomes in the classroom. To complement the scheme, we are offering training to RE Leaders which will cover the following aspects:
A Gateway Subject – Links across a schemata of subjects: History, Geography, Art and more
Learning through a Lens – An overview of Theology, Philosophy and Human & Social Science lenses
Curriculum Intent – Curriculum Design Drivers & the ACE Hallmarks of the SAT Scheme
Curriculum Implementation – Pedagogical Approaches to teaching and learning
Curriculum Impact – Achieving high-quality, purposeful and progressive outcomes for all
Training sessions - Summer 2023:
Tuesday 13th June – 3:45 – 5:15pm
Monday 19th June – 3:45 – 5:15pm
Both sessions will be held virtually, and leaders only need to attend one session. To book your place, please complete our online order form and indicate your preferred date.
Additional whole school training is available – please contact: SATREscheme@saffron.academy
---
The SAT RE Scheme - A Headteacher Perspective
---
The SAT RE Scheme - A Subject Leader Perspective
---
The SAT RE Curriculum - Pupil Perspectives
---
To order the SAT Curriculum, please click the link below.
You will need the following information to proceed with your order:
School Name, Address, Postcode
Headteacher Name, email address and phone number
Finance Contact name, email address and phone number
Purchase Order Number - if applicable
Number of Pupils on Roll (this information will be checked against the DfE database)
---
Exemplar planning materials
Examples of unit planning and accompanying PowerPoint resources are available to view and download below: